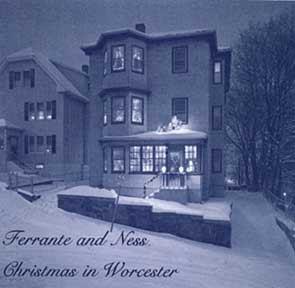 CHRISTMAS IN WORCESTER
MARIA FERRANTE, Soprano MARJORIE NESS, Organ
1. ** GALLERY CAROL - Sidney Cambell 1:56
2. THE ORIGINAL COVENTRY CAROL- from a British Museum Manuscript 3:01
3. A CHRISTMAS MEDLEY- arr. Marjorie Ness 6:22
I SAW THREE SHIPS, Traditional
O TANNENBAUM, Traditional
AWAY IN A MANGER, Traditional
4. AVE MARIA - Franz Schubert 6:00
5. THE NATIVITY - Charles Callahan 2:50
6. GESO BAMBINO - Pietro Yon 4.08
7. THE LITTLE ROAD TO BETHLEHEM - Michael Head 3:.09
8. ** THE HOLLY AND THE IVY - Richard Shepard :59
9. IN THE BLEAK MIDWINTER - Eric Thiman 3:53
10. ** FESTAL FLOURISH ON DING, DONG MERRILY ON HIGH - David Laskey 1:28
11. ST ITAS VISION, Op. 29, No. 3 - Samuel Barber 3:10
12. STILL, STILL, STILL Traditional - arr. Philip Ledger 3:18
13. WHAT CHILD IS THIS? Traditional - arr. Gilliam & McCaskill 3:08
14. I WONDER AS I WANDER - John Jacob Niles, arr. Marjorie Ness 3:18
15. AVE MARIA, Op. 112, No. 3 - Leonardo A. Ciampa 1:50
16. THE HOLY BOY - John Ireland 2:26
17. MARIA WIEGENLIED (THE VIRGIN'S SLUMBERSONG),Op. 76, No.52 - Max Reger 2:26
18. REJOICE GREATLY, O DAUGHTER OF ZION from Messiah - Handel 4:46
19. ** IN DULCI JUBILO - J.S. Bach 2:17
**Organ Solo Total time 63:31

MARIA FERRANTE, soprano, of Worcester, winner of the
Mario Lanza vocal competition, has been acclaimed by re-
ers from the Washington Post to the Boston Globe for her
glorious voice, excellent interpretations and delightful pres-
ence. She performs numerous operatic roles including
Rosalinda in Die Fledermaus, Pamina in The Magic Flute,
Mimi and Musetta in La Boheme and Barbarina in Le Nozze
di Figaro among others and she founded the Opera Theatre
Ensemble at Clark University where she is on the faculty. She is also a frequent
soloist with orchestra in oratorio, and has sung in recital on many of the major
concert stages of New England as well as in Japan and the United Kingdom.

MARJORIE NESS, organist, Minister of Music & the Arts at
Wesley United Methodist Church, Worcester, was educated
at Oberlin Conservatory, Northwestern University, and received
her doctorate in organ performance from The University of
Iowa, Iowa City. Finalist in the 1978 National Women Organ-
ists Competition, she has distinguished herself in the aca-
demic community, in church work, as well as in performance,
in both solo and accompanying roles.

THE ORGAN used for this performance, located at Wesley United Methodist
Church is 73 ranks on 4 manuals and pedal, built by the E. M. Skinner Organ Co.
in 1927. With slight modifications by Aeolian Skinner and later by the Berkshire
Organ Co., it remains essentially the original instrument of 1927.

ORDERING INFORMATION